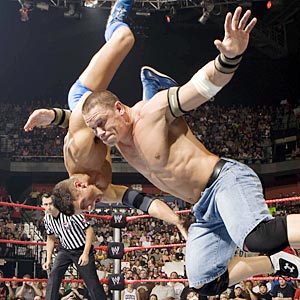 Durante el curso de esta semana, John Cena se unió al chat público de WWEUniverse.com, para responder preguntas de los fanáticos.

Las respuestas que dió Cena en la conversación, eran dentro del marco de su personaje (manteniendo el kayfabe intacto); a pesar de esto, respondió una pregunta referente a Hulk Hogan (actual rostro de TNA Wrestling), así como también habló sobre sus deseos de enfrentarse a The Rock en WrestleMania.

Aquí una traducción de las preguntas y respuestas mas relevantes de la sesión de chat.

Fan: ¿A quién te gustaría enfrentar este año en WrestleMania?
John Cena: Me gustaría enfrentar a The Rock

Fan: ¿Te gustaría luchar contra Hulk Hogan?
John Cena: Si. Pero no creo que eso suceda ahora ya. Está demasiado ocupado desperdiciando su tiempo

Fan: John, ¿prefieres luchar con The Rock o estelarizar una película con él?
John Cena: Preferiría luchar contra él.